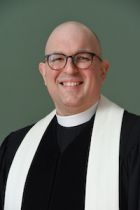 The Reverend Doctor John Sawyer
Pastor
Rev. John Sawyer grew up in Georgia and graduated from Mercer University with a degree in Music. He later attended Princeton Theological Seminary and received his Masters of Divinity there in 2001. In 2004, after serving as Director of Christian Education at a Charlotte, North Carolina church, John was ordained as Associate Pastor of the Northminster Presbyterian Church in Macon, Georgia. He has been active in Youth Conferences at the Montreat Conference Center in North Carolina, serving as a music leader. He completed his Certificate in Spiritual Formation through Columbia Theological Seminary. John loves making music, meeting new friends, and spending time with his wife, Amy, a physical therapist, and his son. John is truly excited to work in ministry as a Pastor at BPC.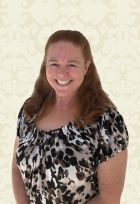 Elizabeth Evarts
Communications Director
Beth Evarts lives with her daughter and two dogs in Bedford, NH. She has over 25 years of career experience creating and implementing brand strategies, digital and traditional marketing and website strategies, creating content, and establishing growth opportunities through communications and outreach programs. As an outdoor enthusiast, you can find Beth walking the many recreational trails around town. She looks forward to sharing the mission and ministry of Bedford Presbyterian Church with opportunities for all through worship, fellowship, growth, stewardship, church engagement, and community involvement.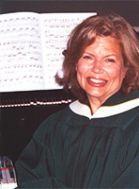 Barbara Flocco
Music Director
Barb Flocco has been about the liturgical music business since graduating from Undergraduate Music School at West Chester University, Pennsylvania. Before arriving at Bedford Presbyterian Church in 2004, she served as Music Director/Organist for 25 years at Hampton Falls Baptist while teaching music from Kindergarten through College. Ms. Flocco has collaborated with esteemed composers/conductors to share their talents at BPC, including Alice Parker, Mark Hayes, and Rene Clausen. Ms. Flocco is thrilled to partner with Pastor John and the capable musicians of all ages at BPC to deliver quality worship through choral, handbell, and instrumental venues. Seeing how God brings us to faith through music is a continual joy.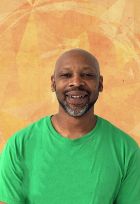 Kenny Gardner
Sexton
Originally from Phoenix, Arizona, Ken Gardner has lived in Michigan, New York, and South Carolina due to his military family upbringing. He now calls Manchester, NH, home with his family. Ken and his companion Tiffany have a thriving local residential/commercial cleaning business. As the oldest of four siblings and a father of five, Ken values his family time and enjoys Music and sports. We welcome Ken in his new role as BPC Sexton. He will help our church prepare for worship services, parish life, meetings, and community activities through general maintenance, cleaning, and upkeep of the buildings and grounds. We are confident that, in time, we'll turn him into a Red Sox or Patriots fan!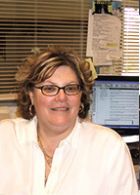 Michelle Jones
Office Administrator
Michelle Jones and her family have resided in Manchester for over 40 years. She began her service 30 years ago as a church secretary and has seen her role at Bedford Presbyterian Church expand. She has worked with many different pastors and a changing congregation, weathered major building projects, including Project Joel, and has worked to help the church move forward with new technology. Michelle grew up in Massachusetts and New York and holds a Bachelor of Science in Education. In her free time, she loves being with her seven grandchildren. Michelle has enjoyed so many years of service here because she loves the people of the church, the relationships that have been built over the decades, and the belief in the mission and ministry of Bedford Presbyterian Church.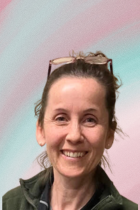 Christine Perkowski
Childcare
Christine Perkowski works in the BPC Nursery every Sunday, tending to our youngest congregants — newborns to three-year-olds — and works at a daycare during the week. She is married to a Manchester, NH, firefighter and has two boys, 13 and 17 years old. In her free time, Christine enjoys time with her family, being outside, and taking walks with their dog. Christine brings her experience of raising and working with young children to BPC, in a safe and clean environment. Through the Nursery Program at BPC, she provides a consistent and familiar presence each week, and works closely with our Children's Ministry Committee and Volunteer Sunday School Teachers.